The top 10 best Google Chrome extensions to optimize performance in 2022
Google Chrome is one of the most popular web browsers. Millions of users around the world use it every day to visit websites, manage online stores, or create content. You can increase Chrome's functionality by installing extensions. There are now hundreds of thousands of these tools available, so choosing the right ones for you can be a challenge. We at Tuthost have made a selection of the 10 most useful extensions for Google Chrome. And if you are looking for a reliable place for your site, you can buy a high-quality VPS hosting from us.
Why is Google Chrome considered the best browser?
Chrome is often called the best browser, and there are several reasons for that. The most important one is safety. Chrome updates always include security and bug fixes so that the level of protection against attacks increases regularly. Other browsers have a very bad reputation when it comes to updating the browser to protect against web attacks.
Another big advantage is the speed of operation. Google Chrome even opens pages with a lot of graphics, videos and scripts quickly. You won't find this speed in any other browser.
At the same time, Chrome is very easy to work, its interface is not overloaded with details and intrusive advertising. And to make using the browser even more comfortable, you can find a huge number of extensions in the Chrome store.
Top 10 best Google Chrome extensions to optimize performance
Chrome extensions are small software modules that help you customize the way your browser works. They can do everything from completely reorganizing your inbox to filtering websites with unwanted content. Choosing useful extensions can be difficult, as their number runs into thousands. To make your task easier, Tuthost offers 10 useful and effective extensions for Google Chrome.
1. Google Keep
Ideas come to mind at all sorts of times – on a walk, in transportation, during lunch. It could be a creative idea, a note for work, a good idea for a gift, a message. We usually say to ourselves, "I'll remember this," but after a while the idea is forgotten. Google Keep eliminates the need to memorize – quickly write down an unexpected idea.
The extension allows you to take text notes or record voice messages. In order not to forget an important idea, you can set a reminder by time or location – when you reach the marked coordinates, the extension will remind about it with a sound signal.
Google Keep has an extension for Chrome, a free app for Android and iOS. They all sync seamlessly with each other, so that all notes are available on any device.
Do you often use Google Keep and have a lot of notes? With powerful search filters, you can filter and find them without long scrolling.
2. Adblock Plus
An ad blocker is a browser add-on that prevents online advertisements from being displayed. There are many such tools, but the most popular ad blocker for Chrome is called Adblock Plus, and it's free. The extension blocks banners on websites, pop-ups, advertising inserts in videos and social networks. It also supports the Acceptable Advertising Initiative – advertising messages that don't interfere with your work. They can also be blocked at any time.
Other features include one-time or permanent ad unblocking, and creating a "white list" of resources where Adblock Plus does not block ads.
3. Lightshot
Lightshot is a tool for creating screenshots. This free extension for Google Chrome lets you take screenshots of a selected area or the entire browser window. Lightshot has editing tools such as color, adding shapes and text. Using these tools will save you time because you won't need to edit screenshots in other programs. Lightshot allows you to save the picture on your computer, in the cloud storage service, share it on social networks, immediately send it to print or copy it to the clipboard.
4. Click&Clean
Click&Clean is an innovative and free extension for Chrome. Its purpose is to quickly and easily clean the browser to optimize performance. Supplement capabilities:
delete your browsing history;
clear the download history;
delete temporary files;
clear cookies;
remove the cache;
delete Web SQL client databases;
delete flash cookies (LSO).
Full or partial deletion of data is available. The extension allows you to remove all traces of your online presence and protect your confidential data. One click is enough to perform the cleanup. At the time of writing this article, the extension only works with Windows.
5. Grammarly
Grammarly is a well-known addition from Ukrainian developers, which has already proved its usefulness. If you write texts in English, such as ads, blog posts, posts when reselling domains, this extension will improve your communication with readers. It not only corrects mistakes, but also offers help in learning the language. Supplement capabilities:
Grammar and Punctuation. Grammarly provides real-time suggestions and suggestions for correcting mistakes, such as extra commas.
Spelling. Grammarly includes a robust spell-checker tool.
Readability. The program finds "clumsy" sentences, paragraphs, and passages and notes readability issues.
Writing style. Grammarly produces word choice sentences and rewrites the test based on the queries of the target audience and the overall tone of the piece.
The free version can only correct grammar and spelling errors, the full functionality to improve writing is available in the premium version.
6. Hunter
Hunter helps you search for email addresses and other information. For example, you visit a site and want to write to the owner, but do not find an e-mail or phone number. Just enter the url of the site into the Hunter field, and the extension will find all the contact information associated with it. The add-on flags verified addresses or gives a validity rating if the email has not yet been verified. You can also enter a person's name in the field to find their email address. In addition to email addresses, Hunter provides:
the names of the wanted contacts;
their businesses and positions held;
phone numbers;
social media.
The extension uses different data sources, such as information specified during domain registration, from the WHOIS database.
Hunter allows you to create lists with addresses and quickly send them to social networks or export them to various CRM. The free version of Hunter has 25 searches per month. To increase the number you will need to buy a paid subscription.
7. Buffer
Buffer is the best way to share content on Instagram, Twitter, Facebook and other social networks. By clicking on the extension button, you can quickly share any information on your social networks. It is also possible to create a publishing schedule and add posts throughout the day.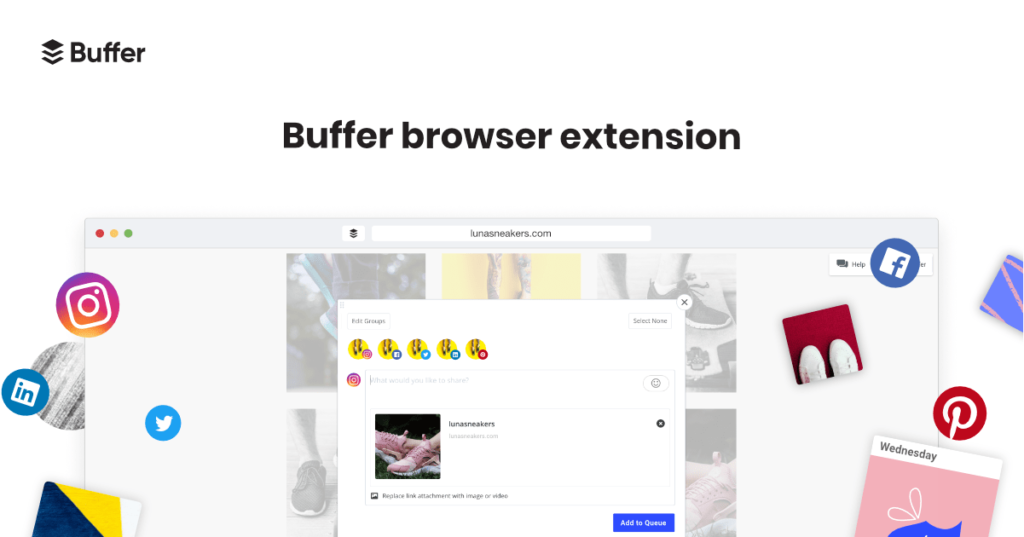 The extension also offers handy statistics – see the number of likes, comments, retweets, and other useful information. If you have a lot of accounts on different social networks and regularly share information, without Buffer's help you'll waste a lot of time posting.
8. Popsters
Popsters Social Media Content Analytics Tool is a social media content analysis tool. It works with 10 social networks:
Facebook;
Instagram;
Twitter;
Google Plus;
Flickr;
Coub;
Pinterest;
Tumblr;
Telegram;
YouTube.
Get stats and the most popular posts with the ability to filter by content type, hashtags, publishing time, or any other attribute. Based on the information, you can build charts and export data to PPTX, XLSX, PDF, JPG, PNG or CSV files. The tool can analyze pages. Popsters Analytics Tool gives you the opportunity to learn how to make your posts more interesting and effective than ever.
9. OneTab
When you open a lot of tabs in Chrome, you may notice a slowdown. The browser creates a separate system process for each open tab – this is easy to see by opening the Task Manager in Windows. Use OneTab to organize all open tabs into a list. This will reduce the clutter in the browser and at the same time reduce the load on the processor of the device.
Click the OneTab button on the toolbar and you'll see all the tabs close and a single drop-down list appear in their place. In it, you can select the tab you want to open. At any time you can restore tabs individually or all at once.
10. WhatRuns
The WhatRuns extension allows you to see the technology and services used on any website you visit. Among them:
fonts;
frameworks;
plugins;
themes for CMS;
analytics tools.
The extension shows the engine (CMS) of the site, connected advertising networks. The tool will be useful for developers, SEO-specialists and anyone who wants to know more about competitors' sites. WhatRuns comes in handy for quick analysis of your site – keep track in one extension of all the technologies that can create an increased load on the server. The extension has a feature to notify you when new technology is added or removed from the site to which you are subscribed. WhatRuns is completely free.
Conclusions
Chrome extensions help make your browsing experience as convenient as possible. They complement the functionality of Chrome according to your needs and preferences. Choose the tools that can solve your problems. Extensions downloaded from the official Chrome store are safe to install and use. Nevertheless, users should always check some nuances before installing a Chrome extension, such as reviews and ratings, privacy policy, availability of support.