Plesk is a hosting control panel with a long history. It allows you to manage applications and the system on the server to provide shared hosting services.
With us you can buy Plesk panel licenses at a minimum price, and if you buy from an organization, you can also get the necessary documents.
There are 2 main types of licenses – for virtual servers and for dedicated servers. Each view in turn has three editions:
Plesk Web Admin Edition is for small sites that need a simple server management solution. Allows you to place up to 10 domains.
Plesk Web Pro Edition is suitable for web developers and designers. This version already allows you to create and manage individual accounts. You can place up to 30 domains.
Plesk Web Host Edition is a version for hosters. Unlimited number of domains, user and reseller accounts management.
Web Admin Edition VPS


13.50

$

/mon.
Web Admin Edition VPS


20.50

$

/mon.
Web Admin Edition VPS


35.50

$

/mon.
Number of domains
10
30
Unlimited
Wordpress Toolkit
WP Toolkit SE
WP Toolkit
WP Toolkit
User management
Subscriptions management
Reseller management
Web Admin Edition Server


13.50

$

/mon.
Web Admin Edition Server


20.50

$

/mon.
Web Admin Edition Server


58.50

$

/mon.
Number of domains
10
30
Unlimited
Wordpress Toolkit
WP Toolkit SE
WP Toolkit
WP Toolkit
User management
Subscriptions management
Reseller management
Plesk is the world's most popular hosting control panel according to w3techs. The panel was created back in 2001 and has been almost completely redesigned several times since its inception.
In 2003 SWSoft bought the panel and in 2008 it was renamed Parallels. Since 2017, the panel has been owned by WebPros.
Today it is a stable and reliable hosting panel with a huge number of features.
Information about the Plesk hosting panel
More than 50% of the top 100 hosting providers use Plesk control panel. It serves more than 10 million Web sites.
Centralized Control Panel – Create and manage multiple sites from a single panel. You can update, monitor performance and develop sites in one place.
Reliability and server security – the developers have taken care of panel security at all levels: OS, network and applications. The panel already includes modsecurity and many other security modules.
More than a hundred extensions – with the Plesk panel the possibilities are enormous. With the help of extensions you can integrate many other services. For example, DigiCert certificates, CloudLinux OS, CDN from Cloudflare, support for NodeJs, PHP, NGINX, free certificates from Let's Encrypt, Git for developers, ImunifyAV antivirus.
WP Toolkit – help you save many hours. This is a solution for installing, managing and updating websites on Wordpress. Includes tools for developing, cloning, backing up and restoring sites.
The main features of Plesk
Plesk has a huge number of built-in features to manage the server and the sites on it. Here are just a few of the main ones.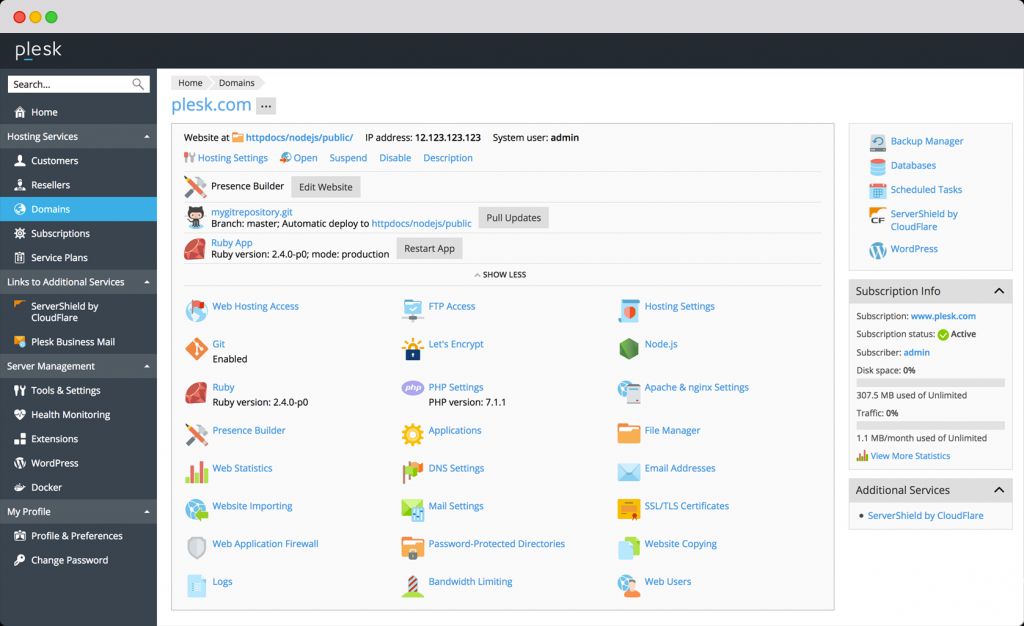 Domains – adding domains and subdomains. Configuring DNS and DNSSEC. Ability to install SSL.
Email – several webmail interfaces to choose from, Roundcube or Horde. Automatic configuration of email clients.
Databases – creating, managing, moving databases between users. MariaDB support.
Files is a simple and convenient file manager. The ability to mass upload files and the option to search for files.
Application Catalog – customize your panel by adding new features from a large catalog of extensions for Plesk.
Backups – schedule and set up incremental backups. Simple restoration of sites and bases. Minimal use of storage space.
Mobile App – Control Plesk directly from your smartphone. Your business and your sites are always under control with Plesk Mobile.
Site Builder – create adaptive websites, stores and blogs with ready-made templates and blocks.
In addition to the basic functions, the Plesk panel also includes a tool to manage sites on Wordpress – WP Toolkit. It allows for quick installation, easy system and plugin updates, backups, and overall greatly simplifies the life of a Wordpress website developer.
Benefits of Plesk
Huge catalog of applications and extensions
If you don't have enough built-in features – you can always find the option you need among the hundreds of ready-made applications.
Support for a large number of operating systems
Most hosting panels are designed for Linux and do not support Windows. But not Plesk. Plesk can run on Windows servers without any problems.
Tools for migration
You can migrate sites from other hosting panels, using the built-in tools.
Availability of a mobile app
Not every panel can boast a mobile-friendly experience. Plesk can.
Panel support
you can call or write to the Plesk 24 on 7 support chat, no additional charges.
Why Plesk hosting panel?
Plesk – greatly simplifies the work of creating and developing websites and applications. It's great for the novice webmaster as well as the experienced admin.
Due to the huge number of extensions, everyone will be able to customize it.
Installation of this panel is possible in a large number of cloud services, such as: Amazon Web Services, Microsoft Azure, GCP Marketplace, Vultr, DigitalOcean, Linode and others.
Based on the positive feedback from users, we can conclude that thousands of webmasters are satisfied with the Plesk hosting panel.
The advantages of buying at TutHost
There are two main lines of Plesk licenses: for VPS and dedicated servers.
Each line is in turn divided into three tariffs: Web Admin, Web Pro and Web Host.
The tariffs differ from each other in terms of available features and price. In Admin and Pro tariffs there is also a limit on the number of domains, and in the Host tariff – an unlimited number of domains.
So why buy a license from us?
Fair price – we sell licenses without a markup, so we have a great price.
Accounting documents – invoices, certificates, contracts – anything your accountant may ask for
All licenses in one place – in addition to Plesk you can buy from us and other licenses that a developer or webmaster may need.
Quick activation – you can order a panel and get an activation key the same day.