One of the most common problems when hosting a large number of users or projects on the same server is their influence on each other. When one of the sites starts to "slow down" it consumes all the resources of the server and thus slow down its work and other sites located on the same server.
Cloudlinux – was created to solve this problem. And we can buy a license for Cloudlinux at a low price.
CloudLinux is a great solution for hosting companies. It allows you to isolate clients from each other, monitor the load and much more.
There are 3 basic license versions:
CloudLinux OS Solo is an operating system for a single user account. Includes performance monitoring and optimization tools.
CloudLinux OS Shared – designed for hosting servers. Isolates clients from each other in a dedicated environment. Allows you to limit server resources such as memory, CPU, number of connections for each account.
CloudLinux OS Shared Pro is an enhanced version of the standard OS that includes automation, advanced analytics and centralized monitoring tools.
CloudLinux Solo


6.00

$

/мес.
CloudLinux Shared


14.00

$

/мес.
CloudLinux Shared Pro


16.00

$

/мес.
Кол-во хостинг аккаунтов
1
Неограниченно
Неограниченно

Лимиты (LVE Manager)

Cage FS

new

PHP X-Ray
Planning to buy 4 or more Cloudlinux licenses? Write to the sales department and we'll give you a bulk discount.
Cloudlinux has integration with the most popular hosting control panels. The control panel allows you to manage tariffs and user settings directly in the control panel.
Information about Cloudlinux
Cloudlinux consists of several modules, each of which solves a specific task. There are modules for hosting providers as well, which will allow you to place a large number of users on the server, without affecting each other. And modules for web developers that simplify project development and management.
Cloudlinux for web developer
In Cloudlinux system implemented modern tools for developers:
PHP Selector
Allows users to select the version of PHP, ranging from older versions – for compatibility – to the most recent versions. Also available to select and connect PHP modules
Python Selector
The ability to choose the right version of Python and customize it to your tasks. Allows you to change settings and connect the functions you want.
PHP X-Ray
A tool that will help you quickly find slow plugins, long database queries, functions that slow down the site.
With the help of these modules – management and development of sites – is simplified.
Cloudlinux for hosting provider
The creators of Cloudlinux also took care of the hosts, because it was for them originally created Cloudlinux.
The system includes modules such as:
CageFS
A virtualized file system that isolates users from each other at the file level and prevents them from accessing each other's files. This increases data security.
LVE Manager
A special virtual environment that allows you to limit the resources consumed by different accounts: CPU, memory, number of processes and I/O resources.
MySQL Governor
Monitors CPU and disk usage in real time and allows you to limit MySQL queries according to set limits.
Features and benefits of Cloudlinux
Here are the main advantages of Cloudlinux:
Stability – thanks to the functionality available in Cloudlinux your server will not be subject to problems associated with increased load on the server.
Profitability – the ability to host more sites on one server, due to their complete isolation from each other – will increase your income.
Performance – optimizing queries, memory and CPU resources will allow sites hosted within the system to run faster.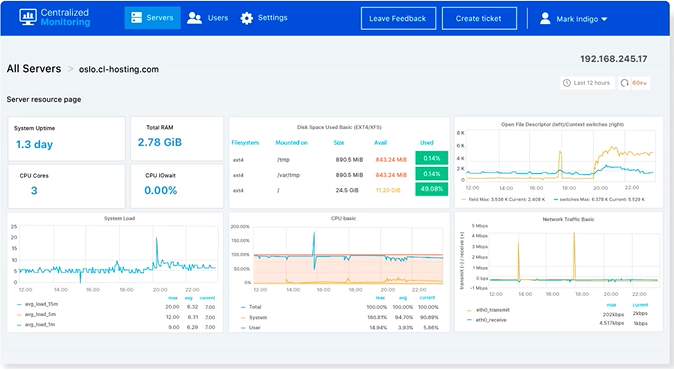 Our benefits
With us you can get advice on how to use, order a license Cloudlinux the best price and get all the necessary accounting documents.