Prices for virtual dedicated server services
KVM1-SSD


7.00

$

/mon.
KVM2-SSD


10.00

$

/mon.
KVM3-SSD


15.00

$

/mon.
KVM4-SSD


20.00

$

/month.
Processor, MHz
1 core (>3000 MHz)
1 core (>3000 MHz)
2 cores (>6000 MHz)
3 cores (>9000 MHz)
Memory, MB
1024
2048
3072
4096
Disk space, GB
20 GB SSD
30 GB SSD
40 GB SSD
50GB SSD
Dedicated IP addresses
1
1
1
1
Traffic
Unlimited
Unlimited
Unlimited
Unlimited
Additional services
⏩ VPS Hosting Extras and Services
⏩ Prices for services
✔️ Directadmin Personal control panel

24.00

$

/ year
✔️ DirectAdmin Lite Control Panel

15.00

$

/ month
✔️ CPanel Control Panel

16.00

$

/ month
✔️ Plesk Control Panel

13.50

$

/ month
✔️ 1 Dedicated IP
$2.00/month
Increased fault tolerance
What is VPS hosting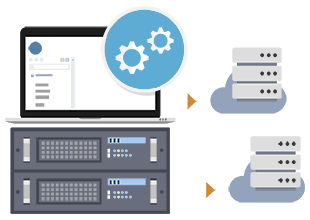 VPS or virtual server is a service for those who are already "cramped" in the framework of an ordinary virtual hosting. The advantage of VPS hosting is that you get root access to the system, and therefore you can install any software you need: webservers, programming languages, databases. Unlike many other companies, we use KVM virtualization and do not over-sell resources. You will be independent of the server neighbors. To facilitate the management of VPS – we provide the VMmanager panel. It can manage your virtual machine, reboot, reinstall and monitor resource consumption. And for the disk system we use high-speed SSD drives.
A few words about the KVM hypervisor used. It is a hardware-level hypervisor based on Intel VT technology (virtualization technology) and AMD SVM embedded in the Linux kernel. Unlike other virtualization systems in KVM, all virtual machines are isolated from each other and each virtual server has its own resource limits. This means that you cannot use memory or processor resources allocated for another virtual machine. In addition, each VDS uses its own operating system core.
We use Supermicro and DELL two-processor servers based on Xeon processors as servers for virtual machines. Hosted servers for VPS in Ukraine, data center Volia. Each virtual machine has a default channel of 100 Mbit/s, which can be increased to 1000 Mbit/s if necessary.
The price of our VDS is low, and when paying for a long period you can get a discount from 5 to 20%.
How is vps hosting different from regular hosting?
Let's compare and understand the difference between VPS and shared hosting.
Virtual hosting
Resources
Server system resources are shared between all users of the hosting, which are located on the server. We use Cloudlinux and therefore give guaranteed resources, but other hosts may have a different situation. One user can take more resources than others.
Managing
A simple control panel, which even a novice can understand – allows you to quickly run a simple site. But it is limited in its capabilities and functions.
IP address
You get a common IP address, which is a lot of other sites
VPS
Resources
Each user has his own virtual server with a guaranteed amount of resources. We use KVM virtualization where resources are not divided and you get 100% of the resources of your plan.
Managing
In addition to the virtual server control panel, you get full root access. This means that you can completely independently decide what to install on the server and how to configure it. You can put any control panel you want.
IP address
You get a dedicated IP, which, except for you no one, moreover – you can buy IP, if necessary.
Features of VDS servers
Virtual servers
If your site consumes too many resources on a regular hosting or you need a more complex system configuration or permanent root access, then you need a vps virtual server on Linux.
We offer several profitable plans for linux vps services. You will have access to a professional virtual server control panel based on KVM technology. You will receive a control panel and will be able to independently reinstall or reboot your VPS, connect via VNC and SSH.
VPS rental is available in several data centers: Ukraine or Europe, virtualization technology: KVM.
Guaranteed resources – without overselling. We allocate a guaranteed limit of server resources for each client, we have excluded the situation when one of the clients can affect the work of other VPS on the same server.
The benefits of KVM hosting
Of the most common virtualization systems, there are several of the most popular, among them OpenVZ and KVM. The difference between them is that OpenVZ uses one core and one operating system for several virtual machines. In the case of KVM, each virtual machine has its own, completely independent operating system.
Overselling often happens on OpenVZ, due to which such a VPS is cheaper, but at the expense of what? Overselling is the use of the same resources by several VDS. For example, the server has 10 GB of RAM and 20 clients, each of which is allocated 1 GB. While each client consumes no more than 0.5 GB, everything is fine. But once they start using their limits at least 80% and their server neighbors will be left without resources.
In the case of a virtual server based on KVM, this situation is excluded, since each client is allocated its own guaranteed resources. Therefore, the price of these VPS is usually higher. Separate attention deserves higher stability, security and support for multiple operating systems.
How to choose a suitable VPS hosting plan?
To order a VPS, you must first select a plan. To do this, determine the planned load and the amount of resources needed for your project.
There are always 2 options:
1) You can optimize the project, set up caching and reduce resource consumption to take a smaller rate.
2) If optimization is not carried out and the budget allows, then you can take a plan more expensive.
You also need to understand that the control panel installed on vps hosting will also consume some resources and most likely the KVM1 plan will not be enough.
If you find it difficult to estimate the amount of resources, you can first buy a VPS, based on disk space, and the remaining resources can always be easily increased by changing the plan. Change plan – free and available at any time.
SELECT PLAN
To choose a virtual server rate – estimate how much space you need for your project and what attendance is planned? You can start with minimum rates and then increase them.
SELECT THE OS AND THE PANEL
For most projects, we recommend CentOS, which is the most proven OS we use on our servers. But there are also many other operating systems available for installation.
PAY THE ORDER
You can pay for a virtual server in any of dozens of ways, and after payment it will be activated within 5 minutes. You will receive your access credentials by email.
Available drive templates
Ubuntu 18.04
Ubuntu 20.04
Ubuntu 22.04
There are many templates for virtual servers available in our repository. So if you need a special template – write to support and we will most likely be able to deploy you a VPS from an image that suits you.
Technical support vps server
We provide basic technical support and can help with the initial installation and configuration of the virtual server. But it is not the responsibility of support to configure the software. Therefore, if necessary, you can additionally order the service of administration.
Paid server administration service
If you need constant monitoring of the server or need a one-time solution to technical problems on a virtual server – then you can order our service administration of the virtual server. There is an option with an hourly fee – for one-time work or a subscription with a monthly fee if you need regular monitoring of the server.
Frequently asked questions about virtual servers