Prices for Windows VPS hosting service
The Windows rental license program is currently suspended by Microsoft. That's why VPS are provided without a Windows license. You can use an existing license or purchase one separately.
Windows VPS 2


30.00

$

/mon.
Windows VPS 3


50.00

$

/mon.
Windows VPS 4


70.00

$

/mon.
Processor, MHz
2 cores (>4000 MHz)
2 cores (>4000 MHz)
4 cores (>8000 MHz)
Memory, MB
1024
2048
4096
Disk space, GB
50
75
100
Dedicated IP
1
1
1
Traffic
Unlimited
Unlimited
Unlimited
Additional services
⏩ VPS Hosting Extras and Services
⏩ Prices for services
✔️ Directadmin Personal control panel

24.00

$

/ year
✔️ DirectAdmin Lite Control Panel

15.00

$

/ month
✔️ CPanel Control Panel

16.00

$

/ month
✔️ Plesk Control Panel

13.50

$

/ month
✔️ 1 Dedicated IP
$2.00/month
Customized vps configuration
If you have a non-standard request and you're not enough standard rates for virtual servers in Windows – write to our sales department your requirements (how much memory, space and processor cores you need) and we will try to find you a custom configuration VPS.
Automatic resumption of work.
Increased fault tolerance
What is Windows VPS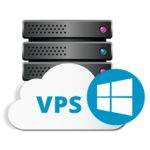 Windows VPS is a virtual server with Windows 2012 R2 installed or higher, based on KVM virtualization. You get full administrative access to the server and will be able to run any Windows programs and apps on it. And with a Remote Desktop, you'll be able to use Windows VPS as a full-fledged desktop computer. The Windows license is already included in the cost of the virtual machine.
For organizations we provide test access that will allow you to test the Windows VPS server. If necessary, you can also rent additional MicrosoftOffice, SQL Server or Microsoft Exchange licenses from us.
Benefits of Windows VPS
KVM Virtualization
KVM server virtualization technology provides quality hosting and reliable Internet projects while using resources as efficiently as possible. It is constantly supported by developers and continues to improve. Among the advantages of VDS KVM – hardware independence, good adaptability for various business tasks, the ability to connect guest OS (configured as necessary, the desired access rights are specified).
Security
Windows VPS hosting is a guarantee of safety and security of your data. It assumes the presence of built-in protection against network threats, which destroys the attack tools and prevents their further spread. In addition, VPS has Device Guard security technology that allows only trusted software to be launched on the server. Renting a Windows VPS in Kiev, Ukraine from Tuthost.ua already includes such embedded components as Defender, Device Guard and Control Flow Guard.
Performance
Stable performance and high computing power is due to the fact that Windows VPS operates on the SuperMicro server platform and Intel Xeon Series E processors. They are highly productive, so our customers get a powerful dedicated server and easy management for their resources at an affordable price.
Storage Spaces Direct
The technology allows you to economically organize storage (up to 90% volume savings). In addition, it is able to recover information in emergency situations without disrupting the workflow. To buy a Windows VPS server or order other services, call or email us online. We offer cheap hosting and favorable terms of cooperation.
If your site consumes too much resources on regular hosting, you need a more complex system configuration or permanent root access, so you need a virtual server VPS.
We offer a choice of several favorable tariffs for VPS services, and you will also have access to a professional server control panel based on KVM technology. You will receive a control panel and will be able to independently reinstall or reboot your VPS, and connect remotely to the server.
The Windows Server 2012 R2 license is already included, you don't need to buy it separately.
Data center: Volia, virtualization technology: KVM.
If you pay for 3 months – 5% discount.
If you pay for 6 months – 10% discount.
If you pay for 1 year – 15% discount.
If you pay for 2 years – 20% discount.
Who is suitable for a virtual Windows server
VPS servers based on Windows are suitable for a variety of tasks, for example:
Remote Desktop. RDP
If you need to organize a remote workplace for your employees to work from anywhere in the world.
Shared storage of documents and files
Help simplify the work of a small office and the exchange of documents and files between employees
Website made in ASP.NET
Your site is developed using .NET Framework technologies and Microsoft SQL server database then virtualization on Windows platform is what your site needs.
Working with accounting programs
Windows VPS is great for working with financial and money accounting programs. A Windows server will provide maximum security for your data.
Features and benefits of renting windows vps with us
Instant server activation
Servers are activated immediately after receiving payment for the order. Depending on the ordered configuration, the creation of a virtual server can take from 5 to 15 minutes. After that you will receive the data for access to Email.
Only licensed Windows
Thanks to the SPLA agreement we signed with Microsoft, we are able to provide you with all popular Windows, SQL Server and other operating system licenses for rent, without the need to buy them out.
VMmanager control panel
In the control panel you can reboot VPS, connect to the server remotely, watch server usage statistics.