How to choose the right domain name for the site
Choosing the right domain name is one of the most important things you do for your website. It will convey important information to both visitors and search engines. There are several reliable ways to make a domain name as effective as possible. For example, you can add keywords or use the domain name generator to get fresh ideas. Another proven way is to use the brand name in the domain.
In this article we will tell you how to choose a domain name, which zone to register it in, how it affects SEO and how much it costs.
What is a domain zone
The Domain Name System (DNS) defines a space in which top-level domains (such as ".com"), second-level domains (such as "acme.com"), and lower-level domains, also called subdomains (such as "support.acme.com") are specified. Each of these levels can be a domain zone.
Domain zone refers to a specific part or administrative space in the global Domain Name System (DNS). Zones are classified by:
Regional domain zones tell us that a domain belongs to a certain geographic region. It could be a separate country:
Ukraine – .ua, .com.ua;
France – .fr;
US – .us;
Spain – .es;
Singapore – .sg.
Or a certain city:
Kiev – .kiev.ua;
Odessa – .od.ua;
Lviv – .lviv.ua;
New York – .nyc.
And even individual continents and unions of countries:
Regional domain zones help to promote a particular region. If you work in Ukraine, a domain in the zone .ua or .com.ua will have priority in search engines over foreign domain names. Search engine understands that entering commercial queries, the user wants to get local results.
Some regional zones are not used exactly as intended. The .tv and .fm zones refer to Tuvalu and the Federated States of Micronesia, respectively. However, they are more commonly used by online movie theaters and radio because of their associations with television and radio. This is an example of the use of regional zones as thematic zones.
Thematic domain zones do not have a regional binding. They indicate the direction of the site, for example:
.biz – business;
.agency;
.auto – cars.
Some thematic zones have strict registration requirements. For example, to get a name in the .aero zone, it is necessary to provide the registrar with an aviation community ID. According to the thematic zone a user concludes whether the site is suitable for him. For example, he wants to buy tickets directly from the airline. The ".aero" zone will indicate that the resource matches his request.
To register a domain in the .ua zone, a registered trademark will be required. Registration is possible only after confirmation of rights, which may belong to a natural person or a legal entity.
How the domain zone affects SEO
Opportunities for promotion are the same in all domain zones. However, their proper use can give advantages. When a user enters a query into the search engine, the system takes into account its geolocation in the formation of the output. As mentioned above, users from Ukraine will see sites in the zones .ua, .com.ua higher than resources in the zone .us or .fr.
Regional affiliation with the city works in a similar way. If a user from Lviv is looking for where to buy solar panels, he is more likely to see websites with the zone .lviv.ua at the top of the list.
The thematic zone does not affect promotion as much, but will be a plus for search engines – it will be easier for them to classify your business. For example, the .biz zone indicates the commercial nature of your business.
What is a domain name
The maximum length of the domain name before the zone designation is 63 characters. The name may contain the letters A-Z, the numbers 0-9, and a hyphen (-). Some top-level domains allow international characters such as Æ, Ø and Å, although they are encoded in a special way, so the encoded name still contains A-Z, 0-9 and hyphens. Search engine crawlers see hyphens as word delimiters.
Since 2010 you can register Cyrillic domains. They are not very popular, so in Cyrillic it is easier to find a free and attractive name that has long been busy in Latin.
The problem is that such domains in the global DNS are still written in Latin script and look like%D0%. When displayed in the browser this text will be converted to Cyrillic using Punycode. However, when copied, the link will be recoded to Latin characters again. If you want to set up e-mail on the domain, it will also be in Latin characters, as e-mail can only have Latin characters.
The domain name is not case-sensitive, which makes TutHost.ua the same as tuthost.ua. Most people use lower case letters. Also note that the prefix "www." is usually not part of the claimed domain name. For a website named www.example.com, the domain name is exclusively example.com. www.example.com is just one of many possible subdomains in example.com. To redirect to the primary domain, you can make changes in the DNS records.
How domain name affects SEO
A domain name is not only a necessary address on the Internet and the name of the site. This is a powerful tool for SEO promotion. The following parameters are taken into account by search engines:
Age. At the moment the age of the domain name is not particularly important, but the earlier it is registered, the more confidence in it. This shows the reliability and seriousness of the company.
Domain history. Before you buy a domain, be sure to check its history. See if he got under a filter of search engines, otherwise you will have trouble in the future.
Keywords. The keyword in the name is a definite plus for SEO. This way it will be easier to attract the target audience. By matching the name with a keyword query, the visitor is more likely to find what he was looking for on the site.
Brand. A characteristic domain name will determine the theme of the site and increase the relevance of queries. A brand name in the domain is a great solution, as it will also affect the amount of targeted traffic, behavioral factors and recognition.
Simplicity. Laconic domain is well remembered by users and begin to enter it into the search box. So your domain becomes an independent query. However, if you choose something like natural-leather-bags-and-shoes, users will have a hard time even remembering the name. A simple domain will be easier to write without mistakes, put on the logo and promote as a brand.
The right name will make your site recognizable and responsive to SEO parameters. Also, don't forget to renew the domain regularly so that there are no unforeseen situations and you don't lose what you've been working on.
How to choose a domain name for an online store
Selecting a domain for an online store, you can use several ideas:
Use a brand name in the domain. This is a good strategy if you want to make your business well known. Today such names as OLX or Rozetka are known to everyone, and they are in the domain names of these sites.
Use keywords in the domain. If you have a small business and no budget for a major marketing campaign, SEO (search engine optimization) will be a good way to attract more customers to your site. To do this, you can use keywords in the domain. If you sell generators, the generator key would be very appropriate in the domain. Examples of uses: generators-shop or magazin-generatorov.
Do not stop at one option right away. Create a list of names that seem appropriate to you. Put all the ideas into it. Once you've made your list, you can start sifting through the most inappropriate names until you're left with what you think is the best. Part of this process is subjective – it's important to choose a name you like. However, there are also some simple criteria that you can use to make your decision easier.
Google likes brands because brands like users. A strong online brand means that users are more likely to click, read, share and link to the website. The more people remember your brand, the more often they will come back to you, thereby increasing the authority of the site. The end result: positive branding that will help your business get higher positions in Google.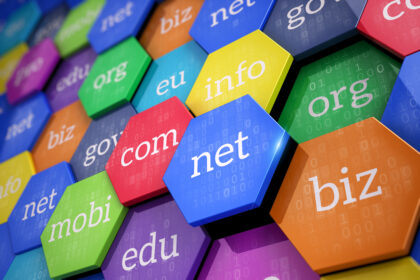 For best results, you need to choose a domain name:
Short. Long and confusing Web site names are harder to remember and easier to type in by mistake.
Creative and memorable. The more unique you can make a domain name (while maintaining its clarity and brevity), the more memorable it will be.
Easy to read. Avoid numbers if they are not in the brand name and special characters because they are confusing when said out loud. Ask loved ones to say the name of the domain – it should be easy.
Also, the name must be unambiguous. Avoid wordplay so as not to mislead visitors.
How much does it cost to register a domain for an online store
The cost of domain registration depends on the zone. However, you're not just paying for registration – it's paying for a domain for a year. After a year you have to pay for the domain again, otherwise it will be free again (which is why it is important to check the history of the domain before you buy it).
.com – $13;
.biz – $21;
.info – $20.50;
.com.ua – $9.00;
.ua – $39.50.
Before registering a domain you can see the cost on our website.
How to check a domain
Check the domain can be any registrar that provides such a service – they work with a single database ICANN. You can do this on our site, just enter the domain of interest in the field and click "Check domain. Checking allows you not only to know if the domain is free, but also to get more information about it:
the date of the first registration;
the date of the last renewal;
the date on which the registration expired;
registrar company;
the server to which the domain is bound.
Data about the owner is usually hidden by privacy settings, you can not see them in the Whois database. Sometimes a busy domain can be purchased from the owner. Reselling domains is quite a profitable business, which you can do with us.
How to register a domain
Registering a domain name is one of the first important steps toward launching your website. It will take you no more than a few minutes if the name has already been chosen.
Step 1. Find the right domain name registrar. You cannot register a domain name by yourself. ICANN (Internet Corporation for Assigned Names and Numbers) oversees the registration of domains on the World Wide Web and has accredited private companies as registrars. These companies reserve, register and manage the domain on your behalf. You can register a domain with us.
Step 2. Enter a name of your choice. If you have already decided on a name and it is free, you can enter it in the line to check.
Step 3. Complete the registration. This is one of the easiest steps, and you only need to enter your credentials and make the payment. The registration service asks for your payment information and email. Please provide a current address, you will receive notifications to that address.
At registration, the domain is paid for one year. After 365 days, you will need to make the payment again so you don't lose ownership. You can also immediately pay for a domain for several years, up to 10. Authoritative registrars will notify by e-mail in advance if a domain must be renewed.
To start the site, you need to forward the domain to the hosting with the site files. To do this, ask your hosting provider for the addresses of the NS-servers. And if you decide to change your registrar, you can do that too. We offer domain transfer service for service in our company.
Conclusion
As we mentioned earlier, Google likes what its users like. When choosing a domain name, your main priority should be your customers and their preferences.
The domain name of your choice:
should not look like it belongs on a spam site;
should be recognizable, memorable and easy to read;
must be relevant and sound authoritative;
must contain the brand name or keywords.
Choosing an SEO-friendly domain name is much easier than it seems at first glance. Keep in mind that you can't rely solely on the domain for search engine rankings. It's just a small building block for a good website along with hosting.