Site backup
This section describes how to select data to save, create backups, store backups, and restore the site from a backup. We believe that large sites should back up their data at least once a week, while smaller sites should do it every 2-4 weeks.
Selecting the data to save


First, open the site backup menu by clicking the Advanced Features icon -> Backups. As you can see, there are many kinds of data to back up.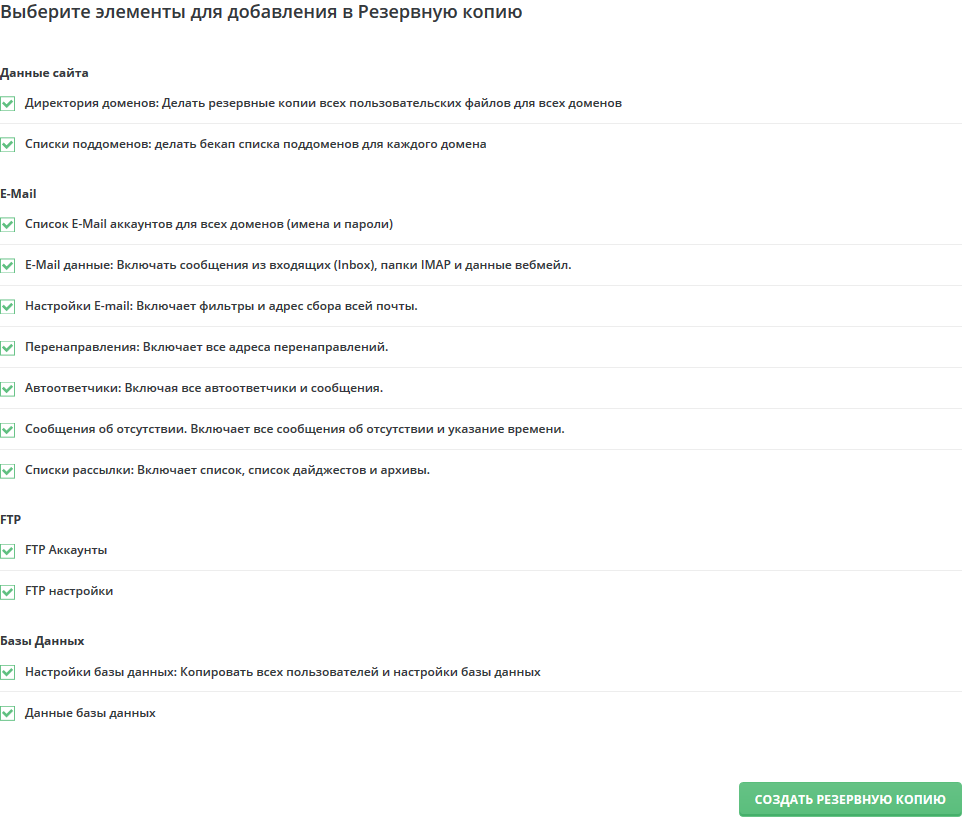 Site data
Domains Directory
This will create a backup of all files in your domain directory. If you have more than one domain, all your domains will be reserved. Backup folders include: logs, private_html, public_ftp, public_html and statistics. Because the subdomains are in your public_html folder, they are also backed up. Choose this option if you are only interested in the content of your website, not the settings.
Lists of subdomains
This will back up the names of the subdomains you have created. It will not back up files within subdomains. Use this option if you have many subdomains. If you fail to back up the lists of subdomains, you will have to manually recreate each subdomain in the event of a system failure.
E-Mail
List of E-Mail accounts for all domains: this will be a backup of all accounts from all emails (names and passwords)
E-Mail data: all messages from Inbox, IMAP and webmail data will be saved.
E-mail settings: This will back up all filters and the universal e-mail address.
Redirects: This will back up all the forwarders you have created.
Autoresponders: This will back up all autoresponder accounts and the contents of autoresponder messages.
Vacation messages: all vacation message settings and the vacation message itself will be saved.
Mailing lists: this will be a backup list, a digest list, and archives.
FTP
FTP Accounts
This will create a backup copy of all FTP accounts you have created. Note that it does not back up files in FTP directories. If you need to back up the contents of the FTP directories, select "Domain Directory" under "Site Data".
FTP settings
This will back up your FTP settings, such as enabling anonymous FTP and allowing anonymous downloads.
Databases
Database settings
This will create a backup copy of all database users and database settings.
Database data
This will create a backup of all MySQL databases associated with your account. You should back up your databases more often if your site depends on them (example – forum).
Creating backups
Creating a backup is easy:
Check the box next to the items you want to back up (see section above).
Click the "Backup" button.
At the bottom of the screen you will see that your backup is being created. Now you can log out or do whatever you want, after you've backed up you'll get a message to confirm it.
Additional Information
The backup file looks like this:
[backup] – [month] – [day] – [year] – [backup number].
If you created multiple backups on the same day, they would look like this:
backup-Mar-20.2019-1.tar.gz
backup-Mar-20-.2019-2.tar.gz
backup-Mar-20-.2019-3.tar.gz
This feature prevents accidentally overwriting the backup file.
Storing backups
Although backups are stored in the /backups directory, we recommend that you download backup files to your computer. This is the safest method because backups stored on the server can be lost if the system fails.
To view all saved backups, click on the

. You will see a list of all available backups. (Note: the backups are located in the /backups directory).
From here you can select the backup you want and restore it.
You can also upload and download the desired backups using FTP or a file manager. All backups exist in your home/backup directory. You can find more information about catalogs here.
Restore your site from a backup copy
Step 1: If the backup file is on your computer, upload it to the server.
If you have a backup file on your hard drive, you should upload it to the /backups directory. This can be done through an FTP client or by clicking "System and Files" -> "File Manager" in the main menu. You can find more information on how to download files here.
Step 2: From the backup menu, select the file to restore.
After you have downloaded the files you want, go back to the backup section and click

. You will see all the backup files in the /backups directory listed in the drop-down menu. Select the file you want to restore.

Step 3: Select items to restore.
In the file below, only the "E-Mail" items have been archived. (Note that items not saved in the backup are not displayed in the selection menu.)
At this point you can choose which items to restore. For example, in the picture above, we choose to restore all email items except absence messages. When you're done, click the "Restore" button.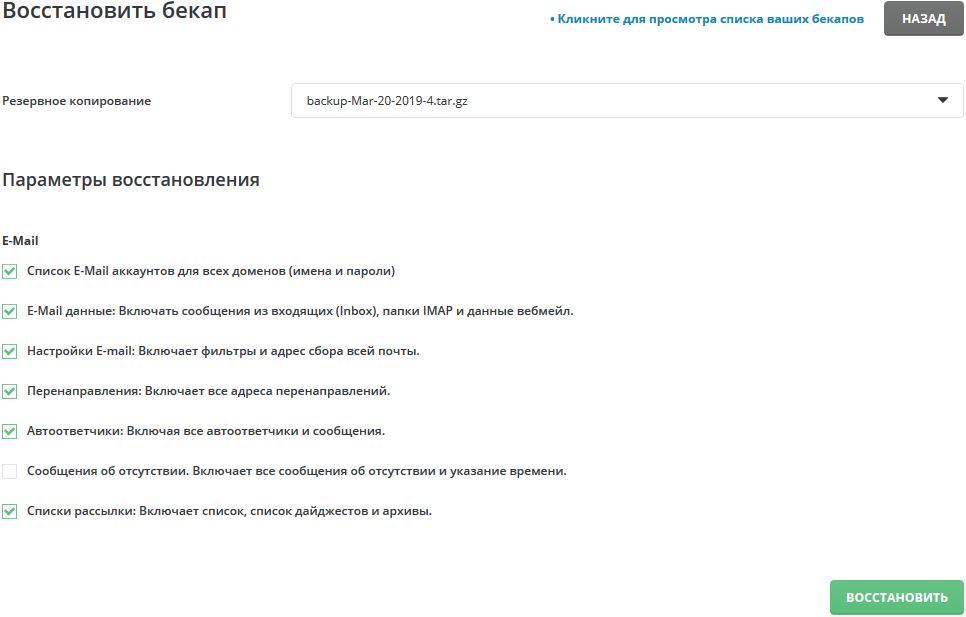 If the recovery was successful, you will see a notification
. After the restore is complete, you will receive a notification that the restore was successful.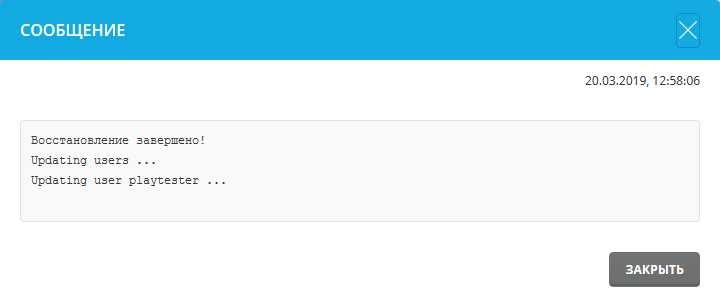 Tell us how can we improve this post?