On each server, a specific time slot is allocated for a particular operation. For example, it most often takes about 30-35 seconds to process certain http requests. This limit is set so that this process can be interrupted if the load on the server is excessive. In this case, "HTTP Error 504" or "error 504" appears on the screen of your computer or tablet.
What is a 504 error
Essentially, a 504 error is a kind of HTTP status code. This error indicates that no response was received from the server within the specified time period. The most common reason for this is that a failure occurs on the server that is used as a gateway or proxy server.
To notify the user of the presence of such an error, various inscriptions appear on the monitor:
"504 Error";
" Gateway timeout error."
"Server response time has expired."
Since a variety of servers may be used for the job, the text may differ in each case. In order to reduce the likelihood of this type of error, you can buy quality Ukrainian web hosting, having previously determined the best tariff.
Why a 504 error occurs
Various factors can trigger error 504. These include such as:
Rapidly increasing load on the web portal. In this case, the server itself is also subjected to a heavy load. It can be provoked not only by DDoS attacks, which are carried out by hackers, but also by an excessively large number of visitors (especially such a situation is characteristic of online stores, when many customers are simultaneously forming orders).
Exceeding the limit of resources that have been allocated to a particular web portal or application. This happens for a variety of reasons. For example, the hosting capabilities do not match the needs of certain plugins. If there is a shortage of RAM that is allocated on the server, a 504 error may be generated. Renting a more powerful server will help to remedy the situation.
Gateway timeout can also occur if scripts, gateways or plugins are not working correctly. In order to fix the situation, you can perform a reboot of the entire server. If difficulties arise on third-party resources, it is worth making requests and submitting them to the owners of the servers.
Contact with a corrupted database can also trigger the "Gateway timeout" message.
If the cause of the error is due to insufficient server capacity, it can be solved by renting a dedicated server in Europe, USA and other countries.
How to fix a 504 error on the user side
In case an error of this type appears directly in the web browser, the user can try to fix it directly. To do this, you need to perform a certain set of activities:
You should start by refreshing the page that displays "Gateway timeout". In some cases, there is quite a heavy load on the server. Therefore, the server cannot quickly process all those requests that come in. To refresh a page, you can use a keyboard shortcut or the corresponding function in the browser's user menu.
If a user actively visits various web portals, studies information or performs other activities, a large amount of cache and cookies accumulate over time. To fix it, you need to clear your cache, clear your browser history and clear your download history.
You can open the selected page using another browser. Perhaps the 504 error only occurs in a particular browser. Replacing it will allow you to access the page you want.
If you have a router or modem installed in your home, you can turn them off for a while. In some cases, it helps.
You can also visit selected pages from another device. It can be connected to the same wireless network. If the situation does not change in this case, then most likely the problem is in the DNS servers used. In order to eliminate it, you can have them replaced. Additionally, it is recommended to clear the DNS cache.
Experts advise you to try disconnecting from your wireless network and also connect to mobile internet. After all, complications can arise on the ISP side.
If all the above actions did not bring the expected result, then, most likely, the error is on the server or site side.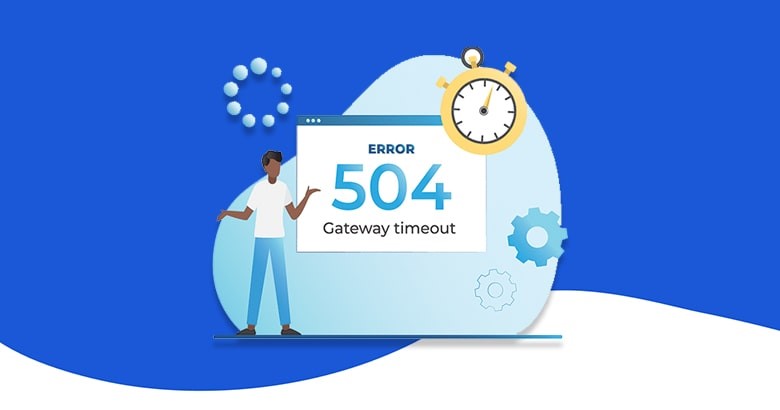 How to fix 504 error on the site
The 504 error that occurred on the web portal side can be tried to be fixed by the administrator. The following steps will help you do this:
Initially, you should familiarize yourself with the publications that are presented on news sites or social networks. It is not uncommon for ad hoc groups to report that there are glitches. This information can be obtained by contacting your hosting provider.
A lot of useful information can be obtained by checking the server logs. In most cases, they contain quite a bit of useful information to help guide you.
Another option is to increase gateway responsiveness. If the gateway is unable to send data within the specified time period for certain reasons, you can adjust the timeout.
Each site is equipped with a load balancer. And it can cause a 504 error. In order to correct the error, you need to make adjustments to the previously entered settings. It will take some time to see if there will be any changes. You can change the settings more than once.
Periodically, you can perform database optimization. It is the database that receives queries to retrieve certain information. To prevent a 504 error from occurring, you can set a longer response time interval. As a result, the likelihood of getting information increases.
Making changes to the server settings may also help. Error 504 occurs when there is a lack of processing power. In order to reduce the likelihood of its occurrence, you can upgrade periodically.
In order for server failures to occur much less frequently, you should periodically update the software. Only if all new components and programs are installed in a timely manner will the server function properly.
You need to contact technical support so that additional computing power can be allocated to the hosting service. This action is usually accomplished fairly quickly. In this case, there is no need to perform a server reboot. A corresponding appeal can also be filed with the technical support of the company that developed the engine. This is especially important if a paid script is used for the job.
The basic rule remains unchanged – the more powerful the server, the faster it will process requests and the less chance the user has to see a 504 error in the browser. From us you can buy a Supermicro server that demonstrates a near-perfect combination of price and quality.
Preventing the occurrence of 504 status
In order to minimize the probability of "Gateway Time Out" error occurrence in the future, you should pay special attention to the server operation. You should always check whether it can handle the load or not. It is important to do this during the hours when the maximum number of users visit the site. If the process determined that the server could not handle such a significant load, then multiple processes should be implemented:
Special attention should be paid to the server source code. Its quality also determines how well the server will perform. There is no point in waiting until errors start to occur. It's best to put a lot of effort and attention into writing good code ahead of time, or better yet, to double-check it several times and test it.
If the error occurs, you need to analyze the server logs. Often they contain quite a bit of useful information that is worth exploring. This will stabilize operation and reduce the likelihood of the error occurring in the future.
It is mandatory to use caching. This procedure provides an opportunity to reduce the amount of time the user will spend accessing information. The load on the server will gradually decrease. In most cases, it brings the expected results fairly quickly.
In order to ensure that certain servers are not heavily loaded, you should use load balancers. Implementing them allows you to speed up your site.
Additionally, you can install special software, with the help of which you can constantly monitor the situation. This will allow you to quickly determine if there is a problem and have it repaired promptly.
In order to ensure the stable operation of a certain website and due to this increase in traffic, it is necessary to minimize the probability of occurrence of the "Gateway Time Out" error. To do this, you initially need to correctly choose a reliable and responsible host. The old tried and tested method of studying customer reviews will help you with this. They often contain quite a bit of useful information.
If you use the services of proven hosting companies, for example, Tuthost, you can count on a more stable operation of sites. This is due to the fact that companies successfully repel almost all DDoS attacks. In addition, they can provide an extensive list of tariff packages, among which everyone will be able to find what is required.
In order to make a choice in favor of a certain tariff, it is necessary to determine the purpose, the attendance, as well as the expected load. All of this will minimize costs.